IMPRESSIVE MUSIC AND TV / HOME CINEMA EXPERIENCE
TRUE STUDIO SOUND QUALITY
SILENT SOUND TECHNOLOGY FOR THE HIGHEST SOUND
QUALITY EVEN WHEN LISTENING QUIETLY
EXCELLENT SPEECH INTELLIGIBILITY
EASY HANDLING
STREAMING VIA WLAN, BLUETOOTH LAN AND AIRPLAY 2
VARIOUS CONNECTION OPTIONS
POSSIBLE 5.1 EXPANSION AND MULTIROOM USE, THANKS TO
AIRPLAY 2, EVEN ACROSS MANUFACTURERS
Enter at the top, expand on a high level.
A Revox STUDIOART system grows with your demands – if you wish, into every room in your home. The number of possible combinations is virtually endless. With the Revox STUDIOART multiroom system, you enjoy all integrated sources throughout your home, in the configuration and place of your choice.
Extremely convenient for controlling your STUDIOART system: the clearly structured and very easy to operate Revox STUDIOART app (IOS or Android) – free of charge in the app store.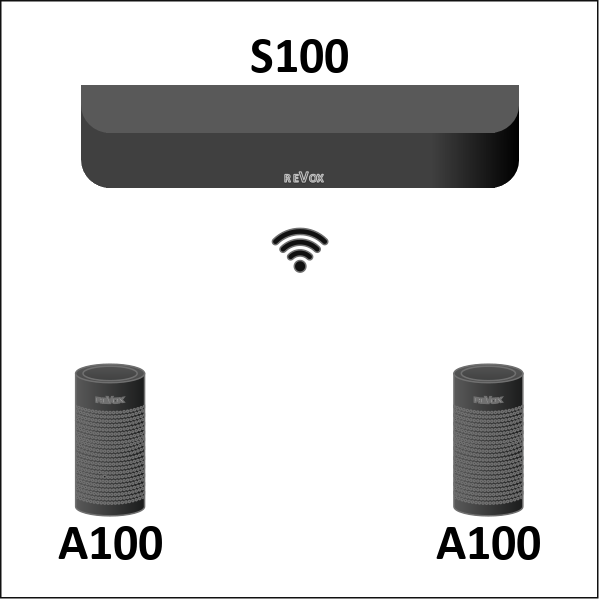 Surround by radio:
S100 and two A100 as wireless set for excellent surround sound.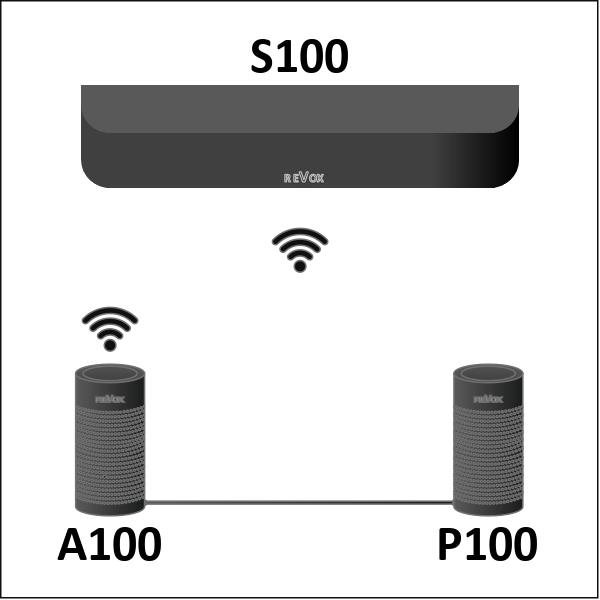 Surround Set:

S100 together with the A100/P100 combo as a set for impressive surround sound.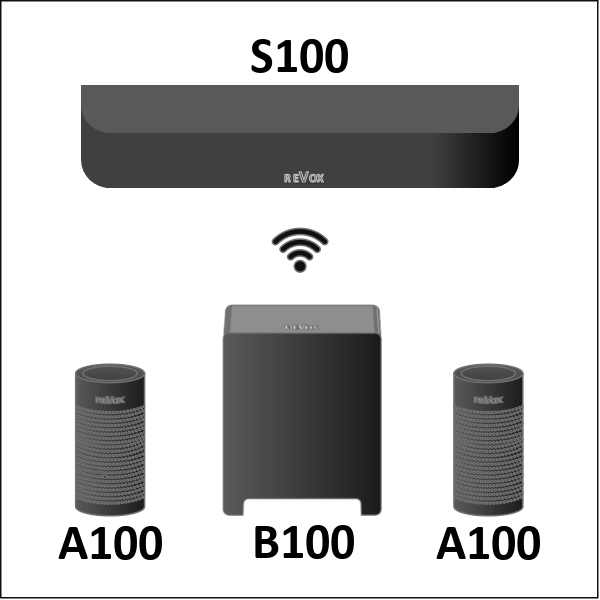 Attractive 5.1 combination:

S100 in wireless interaction with two A100 and one B100 for very impressive 5.1 surround sound experience.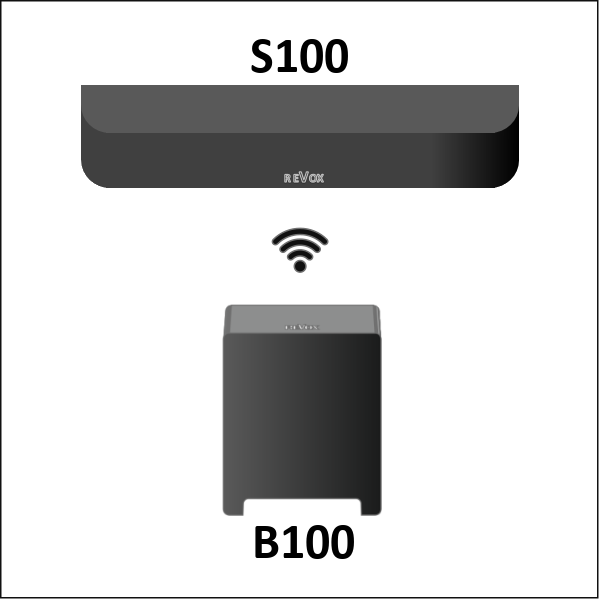 S100 with B100, wireless:

S100 and B100 as a duo for very impressive bass.
Like no other. The S100 is not only convincing as the leading part of a home cinema setup, but also as an independent music system. Thanks to the silent sound technology and specially developed algorithms, high-end loudspeakers and very low-noise audio amplifiers guarantee optimal sound quality even when listening quietly.
Whether rock, classical, imposing film music or quiet feature film dialogue, the excellent intelligibility and impressive sound quality make the S100 an indispensable audio solution.
Music can be played via WLAN, Bluetooth, AirPlay 2. Several HDMI and other connections enable the TV set and BluRay player to connect CD players. Enjoy your music collection and also iRadio, Spotify, Deezer, Tidal.
The S100 is operated with the practical remote control, directly on the device or via the Revox app. And it can be easily combined with other STUDIOART products, also as a multiroom system, thanks to AirPlay 2, even across manufacturers.
TECHNICAL DETAILS
dimensions
weight (kg): 16.5
length (mm): 145
height (mm): 118
width (mm): 1000
power supply
power connection
efficiency
max. 100 dB/1m
frequency range
44 – 20000 Hz
input/output
1 x Cinch (Coaxial), 3 x HDMI-In, 1 x Cinch (Sub Out), 1 x AC Input 110 – 240V, 1 x USB-A (for Service), 210VA,1 x RJ45 (Ethernet), 1 x Cinch Stereo (Analog In), 1 x TOS Link (Optical), 1 x TV (HDMI ARC)
sources
WLAN, Bluetooth, AirPlay 2, KleerNet, Spotify, Deezer, Tidal, Dolby Audio, HDMI, Podcasts, iRadio, Digital-In Optical, Digital-In Coax
included
power cord, remote control, power adapter, wall mount